Miona's Talk Room Guided Discussion and Support Groups
Miona's Talk Room underlies the importance of community.  The impact of Social and Emotional Competencies on healthy development of all humans is supported by research but not sufficiently supported and developed in practice. Therefore, we aren't informed well enough about the importance and overall impact of Social Emotional Learning on our lives. Significant adults (educators, caretakers, parents) in child's life focus more on behavior than on feelings, more on academic than on social and emotional needs, or more on performance than on personal development of a child. In Miona's TalkRoom, we offer guided discussion and support groups with different topics for Parents, Educators, Children, Teens, Young Adults and Gifted, Talented and 2E Adults. Groups will be done in English, French, Serbian/Croatian. Subjects of discussion and support groups will be different and diverse. This format is applicable in many contexts (after) work, (after) school, summer camps, part of curriculum etc.
Miona's Talk Room is a place where you'll:
find someone to talk with
find affirmation for your humanness
feel relieved when your feelings and experiences validated
learn about giftedness and its co-occurence with different abilities and  disabilities
Why did I Create Miona's Talk Room Guided Disussion And Support Groups?
Since 2014, I've been ripening into an experienced gifted adult who has seen and understood predominant importance of social-emotional aspect of giftedness. Therefore, I became a sort of a "warrior that fights for the cause" of Social-Emotional Savvy of Gifted, Talented & 2E so they could become more "fluent" in knowing their inner functioning, in speaking about emotions, in coping better with their complex development, and in growing in self-awareness. I share informations and knowledge acquired on a subject with sincere joy and passion. I organize with great pleasure discussion and support groups with parents, educators, children, teens, young and gifted adults.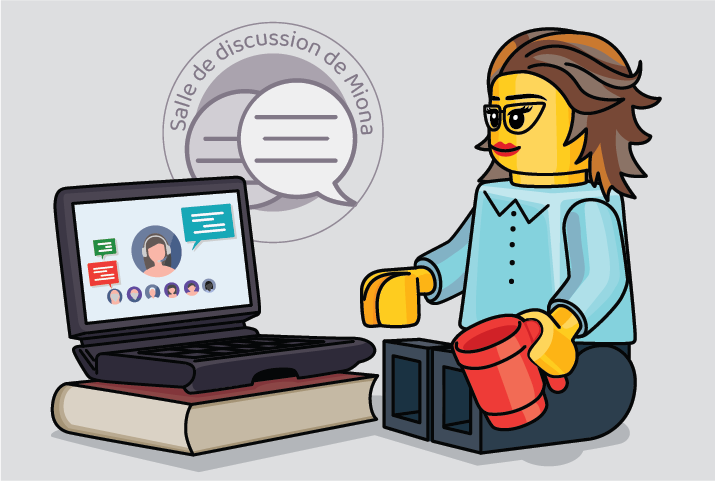 Format of Miona's Talk Room Guided Discussions and Support Groups
The format is ready-to-use semi-structured sessions.
For the children who are young, group will be constituted of children of the same age, boys and girls separately (up to middle school).
High school groups are mixed groups because it's important for both genders to learn how to communicate with, and in the presence of, each other.
Groups for adults are mixed groups too.
Why participate on Online and Offline Miona's Talk Room Guided Discussions and Support Groups?
Benefits are:
Be listened to and get nonjudgmental listening
Sharing with each other reflections about identity, feeling, peer and family relationships
Making connections & finding your "tribe"
Learning about giftedness & learning to make sense of emotions and behaviors
Anticipate problem and find support for problem-solving
Improve self-awareness, self-esteem and social ease
Talk and share with others about your complexity, sensitivities, intensities and normalize your "weird" thoughts
Practice talking honestly and assertively about feelings
Define and assume the want to be recognized and understood as unique, complex individuals
How to get other's support (we all have doubts about ourselves at times)
How to deal with stress that stems from overcommitment, overscheduling, overinvolvement; or from being concernedabout the future.
Make well-adjusted students with reduced risk factors
Help those very disappointed in school to make it less unbearable
Last but not the least, stand up for your rights in your school system. (Although we are not doing advocacy groups, we encouragetheir creation)
Duration of Miona's Talk Room Discussions and Support Sessions:
30 to 40-minute meeting for six-graders and seventh-graders
For seven graders-a bit longer if hands-on activities are included.
45 or 60 minutes for eighth-graders and high school students
Short term sessions: 2 to 6 sessions with specific topics
Long term sessions: 4 months or even whole school year
Adults sessions: 1h 30
Weekly discussions, or a daily series of units limited to a week or two, can be part of the curriculum.
Miona's Talk Room Group size:
For small-group work, ideal group size varies according to age level.
For younger gifted students, a group size of 6 to 7 seems to work best.
The ideal group size regardless of age is 8 persons, minimal number is 3 students.
Full-size school classes can be divided into small groups (three to five members) for sharing, with appropriate directions for discussion.
mixed-gender groups are preferable for gifted teens in high school
For adults, if online, ideal group number is 8-10, if offline, 15-25.
Miona's Talk Room | Types of Discussion and Support groups
for Parents, Educators, Children-Teens -Young Adults and Gifted Adults
In GiftedLab, we organize guided discussion and support groups in different languages: Serbian, Croatian, French and English and about different subject. Main focus still remaining on social-emotional competencies and strengths-based approach to life.